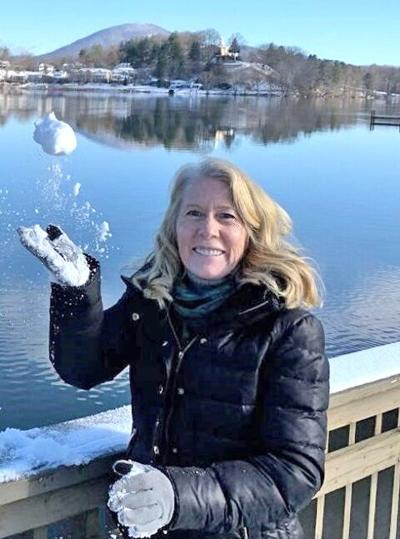 Allen
Grace Casburn Allen, Ph.D., 63, of Sylva, N.C., beloved wife of Willie "Bill" Lemuel May III, left this life Wednesday morning, Aug. 19, after a brief, but heroic, battle with cancer. She departed peacefully, at home among family at "Trickle Creek," gazing out at the mountains she loved so dearly.
Grace was born November 9, 1956, in her ancestral hometown of Florence, S.C., at McLeod Infirmary, the second daughter of Dr. James Allen and his wife, Lucta Johnson Allen, both of Florence. She was brought up in Florence in a home that fostered love, laughter, education and a respect for the generations who came before. From her family, Grace learned to work hard and strive for excellence while honoring the importance of family and friends. Her upbringing at Central United Methodist Church played an integral role in the adult she grew to be. She went on to become a member of First United Methodist Church of Waynesville, N.C.
Grace married the love of her life, Bill, Oct. 31, 1992, at the Balsam Mountain Inn, surrounded by generations of family who filled the old inn with songs and family stories.
Grace received her Ph.D. from the University of South Carolina in finance with an emphasis in international business in 1991; her MBA from Appalachian State University in 1985; and her undergraduate degree in chemistry from Agnes Scott College in 1978.
A born leader, Grace became the backbone of her extended family after her mother's death, leading her band of siblings in continuing family traditions and organizing regular gatherings. One of her favorite events was the annual trip to Murrells Inlet, S.C., where her extended family continued their fourth-generation tradition of gathering under one roof to spend long summer days swimming, skiing, paddleboarding and biking. At low tide they were in the mud in high top tennis shoes crabbing and shrimping. In the evenings Grace held court at the card table playing "set back."
Grace was always drawn to the mountains. Her professorship at Western Carolina University seemed tailor-made for this nature-loving girl.
Grace's professional life was one of excellence, reflecting the degree of achievement she demanded of herself in her personal life. As full professor of finance at WCU, Grace sought to serve the students and faculty in any way she could. Serving on multiple boards and committees, she earned the prestigious Board of Governors Award for Excellence in Teaching in 2003 and the College of Business Professor of Excellence Teaching Award multiple times.
Grace was beloved by the more than 7,000 students she taught over her 28-year tenure, and created a special bond with those she took to New York City annually to visit the New York Stock Exchange and on other finance trips. Aside from publishing professionally, she was a columnist for The Franklin Press, Waynesville Mountaineer, Asheville Citizen Times and the Biltmore Beacon. Grace sat on the board of multiple nonprofits including Ears to our World and Givens Estates.
Grace is survived by her husband of 28 years, Bill; their son, Marshall McKinley May of Charleston, S.C.; and daughter, Grace Allen May of Sylva; siblings, James (Patsy) Allen Jr. of Florence, Robert (Linda) Johnson Allen of New Orleans and New York, John (Eugenia) Marshall Allen of Awendaw, S.C., and Lucta (Brian) Johnson Allen Nolan of Marion, S.C.; and a tribe of nieces, nephews, and cousins, all of whom loved their "Ant Grace" to pieces.
Because of the current worldwide health crisis, a memorial service will be announced at a later date.
Memorials may be made to: Western Carolina University Foundation, For: The Grace Allen Memorial Endowed Scholarship, Suite 201 HFR Building, Cullowhee, NC 28723.
The care of Grace has been entrusted to Wells Funeral Homes, and an online memorial register is available at "Obituaries" at
,
wine
,
wine