students Purchases Expensive SHOPPING Results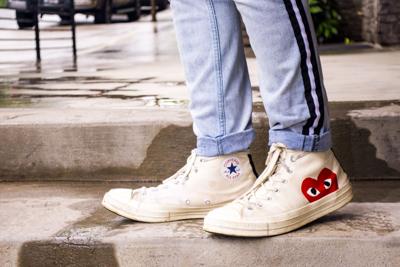 Freshman Nathan Simowitz wears his designer commo de garçon shoes April 30 that he bought while drunk.
Morgan Browning // Staff Photographer
After Bid Day, the last day of greek recruitment, he was drinking a few beers and bonding with his new fraternity brothers, when an Instagram ad for designer shoes he had been eyeing for months popped up on his feed. Freshman Nathan Simowitz, with his confidence bolstered by booze, immediately purchased the shoes without a second thought.
The shoes cost $160 and wiped out half of his bank account at the time, but he did not regret buying them once sober, Simowitz said.
Simowitz is just one of thousands of people who participate in drunk online shopping, a nearly $45 billion industry, affecting 79% of alcohol consumers, according to a study by Hustle.
Simowitz, who is majoring in business, enjoys drunk shopping and has made some of his favorite purchases while drunk, he said.
"The things I am too afraid to do sober, I always commit to drunk," Simowitz said. "These are my favorite shoes now, and I would never have bought them without drinking."
Junior Hanah Barnard, who is majoring in psychology, sometimes shops online while drunk, she said.
The last time she drunkenly shopped online, she spent about $60 on several shirts and dresses from Forever 21's website because she could buy a lot at a lower price, Barnard said.
The Hustle study, which surveyed 2,174 people in March, named Amazon the outlet of choice for drunk shoppers with 85%, followed by eBay with 21%, Etsy with 12%, Target with 9% and Walmart with 5%. Additionally, the average intoxicated shopper spends about $444 a year on drunk purchases.
Barnard usually buys clothing while shopping drunk, something she has done since she began college, on cheap retail websites like Wish, a discount online shopping site, she said. However, once she is sober, she does not always like what she has purchased.
"Some things just seem like better ideas after a few glasses of wine," Barnard said.
Her worst drunk purchase was when she bought four bikinis from Wish, that were too small for her, she said. She didn't return these because they only cost 50 cents each.
Both Barnard and Simowitz have never returned any of their drunk purchases, they said.
They fall into the majority, as 80% of people do not return their what they bought while drunk, according to Hustle's study.
Beer is usually drunk shoppers' favorite alcoholic beverage, according to Hustle's study, followed by wine, Barnard's drink of choice, and whiskey, Simowitz's favorite.
When it comes to the breakdown of shoppers by gender, women are more likely to drunk shop than men, with 80% of all women participating in drunk shopping and 78% of all men, according to Hustle's study.
An increase in access to obtainable alcohol and a constant access to online stores has caused the growing trend of drunk shopping, said Rebecca Miles, clinical assistant professor of marketing for the business department.
In the past, the time people used to drink was after the stores were closed, Miles said.
"Now we have more access, we work longer harder hours, we go home, we consume and we can log on and buy stuff," Miles said.
Young adults in particular view drunk shopping as a topic of conversation and enjoy sharing what unusual things they have purchased, Miles said.
"Millennials, according to the data, are the ones doing the majority of the drunk shopping, even though they consume less," Miles said. "When you guys drink, you make it count."
Millenials are people born between 1981 and 1996, according to Pew Research Center.
Miles thinks some online retailers take advantage of drunk shoppers at night, she said.
"There are online shops that have late night flash sales," Miles said. "So, it's smart from a monetary point of view to start offering opportunities to capture some share of the drunk shoppers, but it also raises some ethical questionsw."
For people whose drunken shopping gets out of hand, there are apps designed to prevent excessive spending while intoxicated, Miles said.
"There are apps that work like the breathalyzers you can use in your cars. Some require you type in certain things, and some lock down your browser between particular hours," Miles said.
Apps like BACtrack can tell users their blood alcohol content with a smartphone breathalyzer and an app, according to their website.`
As for the future of her shopping habits, Barnard will most likely continue to shop while drinking, she said.
"In general, I usually enjoy the experience," Barnard said. "Even though I've bought some things I definitely don't need, I usually have the ability to make returns, and sometimes I end up with some really great purchases."
× Post a comment as
× Report
× Watch this discussion. Stop watching this discussion.
(0) comments
Welcome to the discussion.
Log In