baseball track and field mountain pointe javelin alex ramirez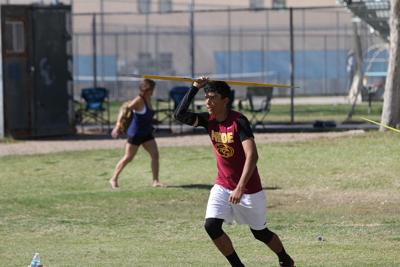 Mountain Pointe High javelin thrower Alex Ramirez unleashed a toss of 195 feet, 3 inches at the Nike Chandler Rotary Invitational, which ranked sixth in the nation and tops in Arizona
Eric Newman/AFN Staff
spotlight featured
Doubling down: Pride 2-sport athlete leads state in javelin
Zach Alvira, AFN Sports Editor
8 hrs ago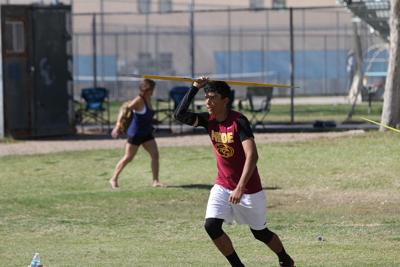 Mountain Pointe High javelin thrower Alex Ramirez unleashed a toss of 195 feet, 3 inches at the Nike Chandler Rotary Invitational, which ranked sixth in the nation and tops in Arizona
Eric Newman/AFN Staff
Whether he's throwing a runner out at the plate or unleashing a throw that beats a defending state champion in a prestigious track meet, Alex Ramirez barely has time to tie his shoes as he does a spring two-sport shuffle at Mountain Pointe.
Ramirez spends most of his after-school time on the diamond as an outfielder on the Pride's junior-varsity baseball team.
He also dabbles in the javelin throw, but his practice time for that is limited to weekends, under the watchful – and often critical – eye of his father, Juan.
"We fight a lot, but that's OK," said Juan, who coached track and field at Scottsdale Community College for five years, through 1998. "He's a competitor. He likes to prove people wrong, in a way."
In a way. At the Nike Chandler Rotary Invitational in March, one of the largest meets in the nation with more than 160 schools competing, Ramirez launched the javelin 195 feet, 3 inches. He won and he's now the sixth-ranked javelin thrower in the nation and tops in Arizona. The field included Kevin Fairchild, the defending big-school state champ in the event, of rival Desert Vista, whose second-place toss was 10 feet behind Ramirez.
But there's more to the story. Ramirez was battling back from hamstring and shoulder-blade injuries that limited him for five months.
"I hadn't thrown in a meet since June, so I was rested," Ramirez said.