news Centrepoint Homeless Helpline Appeal Youth Homelessness Homeless Helpline
"There's a stigma about people who are called homeless, as if they're somehow beneath society," says Anna McGrane. "People don't realise it could happen to anyone."
The 19-year-old is one of 80 residents at a Centrepoint hostel in south London, one of 53 services the organisation runs for the 9,000 16- to 25-year-olds it helps in the UK each year. Figures at the end of January from the Department for Communities and Local Government show more than 4,000 people a night have been sleeping rough on England's streets, a 16 per cent increase on last year. 
Being displaced from your home at a vulnerable age can lead to months or years of misery.
"At one squat I stayed in, there was a guy with a hammer who I was told had tried to kill someone," former Centrepoint resident Xavier Bernal says. "I was so scared. He came with drugs and said if we didn't take them he'd think we were from the police. I didn't, but sometimes I still see him on the street."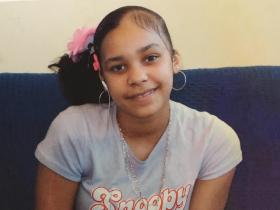 Read more
'I was the the girl on the missing poster'
The memories of nights sleeping rough move him to tears.
This winter Independent readers have helped raise more than £3m supporting Centrepoint's new Young and Homeless Helpline, which is being launched by Prince William and will provide rapid emergency help to young people in danger of being forced out of their homes.
Centrepoint itself provides shelter, mentoring, lessons in money management, cooking and opportunities to get back on one's feet. Many of the young people seize the opportunity – and run with it. McGrane has set up her own photography business; Bernal is a tech entrepreneur whose start-up connects patients with healthcare professionals. Artists such as Franke Vassell and Cartrain have been provided with studio spaces by the charity after losing their homes.
Alex Bonnick, a PT and athlete who trained with Team GB for the Rio Olympics, says it took huge willpower to pick himself up after he found himself in the hostel system at 17.
"But I always see beyond the obstacle," he says. "That's the trick."
All have messages of hope. Victoria Taiwo, who founded her own clothing company, KBD Tori, became homeless at 21: "When I left, I didn't know I could do all the things I can do now, but I knew there was more to me. Everybody has something to offer to the world."
Anna McGrane
At the age of 18, arguments with her family meant that McGrane had to leave her home in south-west London. She won't disclose why, saying only: "It's still something I can't really talk about."
She'd been unhappy at school, where, because of her love of cameras, she was known as "the photo girl".
"In the beginning it was a way to capture all the visions I had in my head," she says. But then her wellbeing unravelled: "My space didn't feel like my own any more."
She left school at 14 and approached the council for housing advice. It was awful, she says.
"There was a heavily pregnant woman being told to leave even though she had nowhere to go, and when the police came they told her to sleep in an internet café."
McGrane was referred to Centrepoint, which offered her a "beautiful room of my own". There, her passion for photography was allowed to flourish again and she continued with her own freelance business, annamcgrane.co.uk, which has seen her photograph Ellie Goulding through the charity.
Cartrain
Street artist 'Cartrain' spent two months sleeping rough with his girlfriend after they were evicted from their flat
"The streets are too dangerous to sleep on at night, so we'd walk them from 11 at night until 6 in the morning," says Cartrain, 24, a street artist who hides his face in photographs "for anonymity".
He and his girlfriend spent two months sleeping rough in 2014 after their private landlord evicted them from their flat in Westminster following a row about a broken boiler.
"It kept breaking, we kept complaining, then he started procedures to have us removed," he shrugs. "We left 10 to 20 minutes before the court bailiffs came."
They joined the ranks of hidden homeless at train-station food courts, blending in with tired travellers, sleeping there in the mornings, or in an A&E or hospital café. 
He was suffering badly from anxiety. After the couple were referred to Centrepoint, the charity found a studio apartment for them in central London, where Cartrain still lives and where he was able to finish his work. His surrealist collages have been complimented by Gilbert & George and drawn praise from fellow street artists such as Stik, and soon he will be exhibiting at the Imitate Modern gallery in Mayfair. 
Then who knows? "Maybe even the Tate."
Sophia Kichou