plant Seller four seasons garden club root GARDENER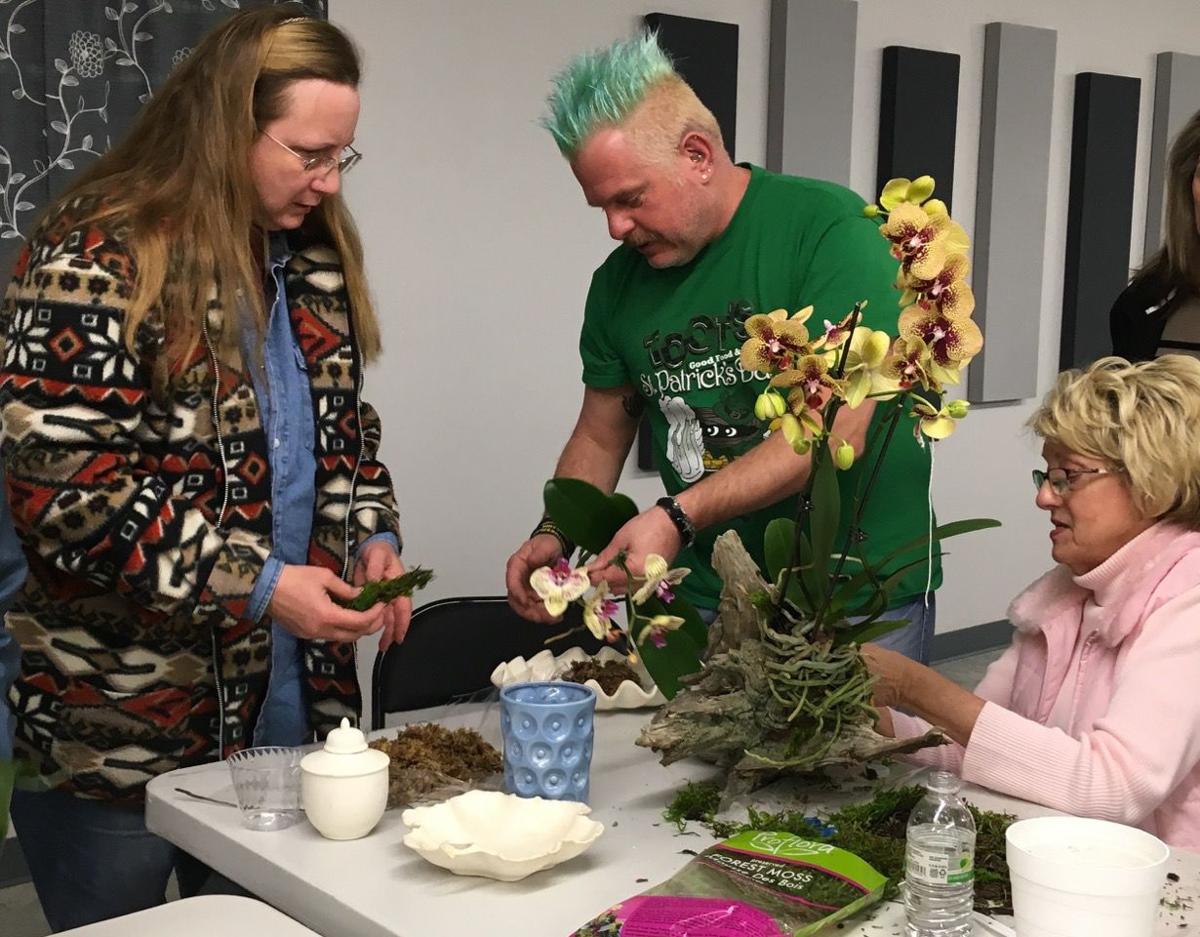 Buy Now
Linda Blevins (right) attaches orchids to driftwood assisted by Richard DeArk and Karen Massengale (left).
Four Seasons Garden Club convened at the Master Gardeners' building at Rhea County Fairgrounds Tuesday evening, March 6, for their monthly meeting and a hands-on workshop on growing orchids without pots. The workshop was led by Richard DeArk, local orchid collector, artisan, event coordinator and U.S. Air Force veteran. Most members brought potted orchids and a variety of supplies for transferring their plants onto other substrates.
Richard explained that tropical epiphytic orchids are air plants that attach to trees in tropical forests and absorb water and nutrients from the air, thus they are fairly easily grown without pots. There are also hardy temperate zone orchids that grow in the ground, including a few that occur locally, such as lady's slippers.
He demonstrated taking a plant from the pot and removing all potting material gently so as not to damage the roots. Any dead roots were removed with scissors sterilized in rubbing alcohol. Healthy roots are greenish; they turn brown when they die; they turn gray when they need water; and they lengthen as the plant grows.
He prefers using fishing line to attach plants because it doesn't show but string or wire can also be used. It is wrapped around the base of the plant several times just tight enough to hold it securely. A small amount of sphagnum moss included among the roots will supply moisture. He demonstrated attaching plants to a stick, a large section of tree bark, a dried cactus and a small unfired bisque ceramic pitcher. Water added to the unfired ceramic will seep through gradually to the plant's roots and it will provide some humidity. It's a good idea to tie on a label if working with several different varieties, especially if trading plants with friends. Before driftwood from salt water sources can be used for this purpose it must be thoroughly rinsed several times to remove the salt.
Orchids grown indoors should be watered two or three times a week, or just as they dry out. Water thoroughly but allow extra water to drain off. Over-watering is the primary problem with orchids grown indoors. Other problems are lack of humidity, improper light and nighttime temperatures that are too high. In spring after danger of frost has passed they can be moved outdoors and suspended from tree branches. This provides light and shade, and they are easily watered when needed.
Richard stressed the importance of researching the growth requirements of the orchids that interest you to learn where and how they grow in nature and what temperatures and other conditions they need. Orchids are the largest plant family and they grow in many environments. The website orchidmall.com is a good source of information. He recommends spraying a neem oil solution for most insect problems and a dilution of Superthrive micro nutrients for plant food. Some orchid sellers he recommends are the Atlanta and Knoxville orchid shows, Lines Orchids on Signal Mountain, and an appointment-only source on the W Road.
Following the gardening activity Carol Pfrommer, newly installed club president, led the business meeting. Refreshments were provided by hostesses, and Master Gardeners, Faith Young and Karen Massengale
,
wine
,
food