Slippers Wearing More Than Things
Even though she wasn't up for any awards, there's no question that slippers/201707/2220693.html">Tiffany Haddish was the unofficial winner of the Oscars.
The American comedian and actress presented the live action short gong at the 90th Academy Awards with Maya Rudolph. While most celebs suffered through the evening in hideously uncomfortable high heels, it looks like Haddish decided that enough was enough. She waltzed on to the stage clutching her Jimmy Choo stilettos, with Ugg slippers on her feet.
Tiffany
Haddish and fellow comedian Maya Rudolph (Chris Pizzello/AP)
Nothing says comfort like shearling slippers. Sure, they might not have matched her gown as well as the stilettos, but they showed how she is the most relatable woman in Hollywood.
This unusual sartorial choice won Haddish a legion of fans.
i wanna live my life as casually carefree as tiffany haddish wearing uggs on stage at the oscars
— M (@moniabadir) March 5, 2018
Tiffany Haddish just came in here with UGGS slippers and I am 👏🏼 here 👏🏼 for 👏🏼 IT
— Mandy Aracena (@TheMandyAracena) March 5, 2018
TIFFANY HADDISH IS MY QUEEN FOR WEARING UGGS ONTO THE STAGE 😂😂😂😂
— Eryn Simons (@eryn_simons) March 5, 2018
But this wasn't the only thing that showed that Haddish really is a unique figure in the entertainment industry. She did something that's almost unheard of in Hollywood and – gasp – rewore a gown that we've seen her in before.
You might recognise the white Alexander McQueen dress with a jewelled collar from the Girls Trip premiere, or from Saturday Night Live. In fact, part of Tiffany Haddish's Saturday Night Live monologue was all about how she plans to rewear the dress multiple times, despite the fact that it's frowned upon in Hollywood.
Re-using outfits shouldn't be a faux pas. Take it from our host @TiffanyHaddish.
Watch her full #SNL monologue: https://t.co/894yZI4Vjp pic.twitter.com/q2qyyhy05M
— Saturday Night Live – SNL (@nbcsnl) November 13, 2017
"I don't give a dang about no taboo, I spent a lot of money on this dress," she said. "This dress cost way more than my mortgage, this is an Alexander McQueen, OK? It's a $4,000 dress – I'm going to wear this dress multiple times."
Haddish stayed true to her promise by rewearing the dress for the Oscars, and people seriously can't get enough of it.
Tiffany Haddish is me when i bought my dream & expensive dress and swear to wear it on every single important occasions from now on.
— T'Challalalala (@pillypiez) March 5, 2018
@TiffanyHaddish love that you strut that dress. I think you are my new hero. Breaking down decades of fashion bs. Plus you are funny af #couragetobeme
— Cfodor (@Truax62) March 5, 2018
Tiffany Haddish told y'all during that SNL monologue she was gon keep rockin that dress. I respect the dedication to a bit!
— The Reel Amateurs Podcast (@TheReelAmateurs) March 5, 2018
Even though Jimmy Kimmel presented the evening's events, it was Haddish and Rudolph who really stole the show.
Now I want @TiffanyHaddish and @MayaRudolph to host every awards show. #Oscars
— Awesomely Luvvie (@Luvvie) March 5, 2018
If you thought that Uggs had been banished to the noughties, it would seem like they're actually back in fashion now – whether you like it or not. Not only did designer Jeremy Scott collaborate with the brand last year, but in January Rihanna rocked some Ugg boots to the airport.
With the Rihanna and Haddish seal of approval, you can be sure that we'll be seeing a whole lot more Uggs in the future…as well as that McQueen dress.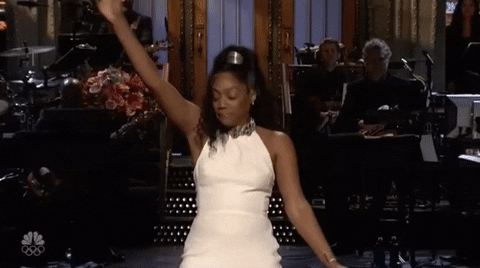 © Press Association 2018
,
food
,
wine