Liam Fox, the International Trade Secretary, has been mocked after attempting to hail an "increasing demand" for British holiday exports in sunglasses, flip-flops and ice-creams. 
According to data collected from HMRC by the Department for International Trade (DIT), the latest figures for holiday products show the UK exported more than £302m in 2016, including £160m worth of sunglasses, £93m worth of swimwear, £16m worth of ice-creams and £8m in flip-flops. 
"From ice cream to swimwear, you can find UK holiday exports in travel destinations around the world," Mr Fox said, adding his department was supporting British business to "take advantage of the growing global markets" after Brexit. 
Read more
"Last year alone, more than £300m-worth of these goods have been sold to shoppers across the globe showing increasing demand for home-grown summer essentials."
But it quickly emerged that the UK imports millions of pounds more of these items into Britain every year. Barry Gardiner, Labour's Shadow International Trade Secretary, said: "Celebrating the success of British ice cream, sunglasses and swimwear is all very well, but the truth is that the UK is a net importer of all these products.
"All in all, we import £93m more of sunglasses, £132m more of ice cream, and £74m more of swimwear than we export.
"Of course the real irony is that our major trading partners for all of these 'holiday goods' are European countries such as Italy, Germany, Ireland, France and Belgium."
Tom Brake, the Liberal Democrat's Brexit spokesperson, said the department "should be renamed the Ministry for Brexit Propaganda after releasing these laughably biased figures". 
"Despite Liam Fox's attempts to paint a positive picture, the country's economic outlook is looking increasingly bleak because of the huge uncertainty being cause by Brexit," he added.
According to the DIT, sunglasses remain one of the favourite holiday exports, with £3.8m-worth sold to Hong Kong and £4.6m-worth of swimwear sold to the United States.
Overall, the trade figures showed that UK exports and services have increased, with exports now at £547.6bn in 2016 – up 5.8 per cent on the previous year. But highlighting the paramount importance of securing a free trade deal with the European Union after Brexit, 43.9 per cent of all UK exports go to EU member states.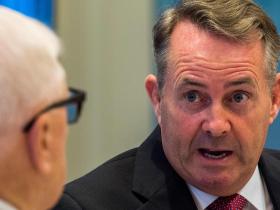 Read more
Liam Fox says there is 'no health issue' with chlorine-washed chickens
Mr Fox added: "As an international economic department, we are supporting British business to take advantage of the growing global markets after we leave the EU and design a trade relationship in Britain's national interest.
"There has never been a better time for our dynamic and innovative businesses to export their goods and services abroad."
But by highlighting the holiday exports Mr Fox also received criticism for attempting to divert attention from Britain's "weak" performance, with the Office for National Statistics figures – published on Thursday – showing the worst monthly trade deficit since November 2011.
"This just reinforces the importance of a future trade agreement with the EU. That must be the Government's top trade priority," Mr Gardiner added.
"Putting out selective figures may be politically convenient for Liam Fox; but it will not mask the fact that he does not have a coherent trade strategy to improve our widening trade deficit."
,
wine
,
wine