dru prox brent dearmon les miles carter stanley bryce torneden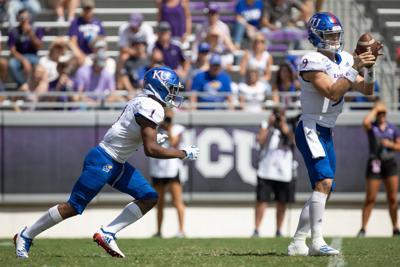 Senior quarterback Carter Stanley snaps the ball on a run play to sophomore running back Pooka Williams Jr. Kansas fell to TCU 51-14 Saturday, Sept. 28.
Chance Parker/UDK
Kansas football spent its bye week adjusting its offense to the schemes of newly-appointed offensive coordinator Brent Dearmon.
Coach Les Miles said he has been impressed with how the process has gone thus far. He said Dearmon has a "really fresh approach" to the way he runs the offense in practice.
One player who seems to be adjusting well to the coaching change is senior quarterback Carter Stanley. Stanley said Monday that a lot of the "new" plays are stuff he's ran in the past that he thinks will be effective.
"I'm really excited [about the offense]," Stanley said. "A lot of the plays that we ran last week didn't even feel like new stuff to me. It was all stuff that I've been comfortable with and feel really good about."
Before coaching, Dearmon played quarterback at Bethel University. Stanley said he thinks that experience has helped Dearmon connect with him.
"I always in the past have liked that and appreciate that — a coach who has played the position." Stanley said. "He's played it at the semi-pro level — he's obviously been in our shoes, and he's handled stuff that we've handled."
Dearmon is known for his use of RPOs, or run-pass options — a play that requires the quarterback to read, react and distribute the ball accordingly based on the how the defense plays. The scheme at times takes him back to his days as a middle school basketball player, Stanley said.
"It's almost — the way I would put it — like drawing and dumping in basketball," Stanley said. "I almost feel like a point guard at times, going based on a defender I'm putting the ball here or here. It feels like you can't really be wrong, which is a really good feeling."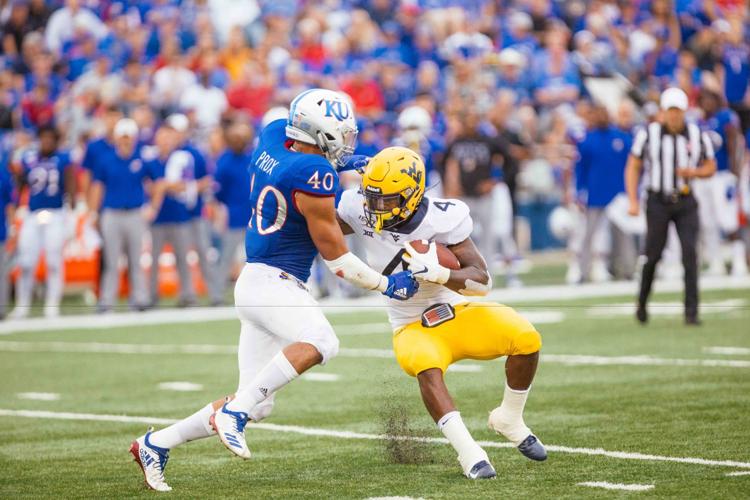 Junior linebacker Dru Prox tackles the West Virginia offense on Sept. 21. Coach Les Miles reported Prox would not be available versus Texas.
Emma Pravecek/UDK